With autumn in the air and school back in session, we are excited to announce that The Metropolitan has opened its doors!
Havin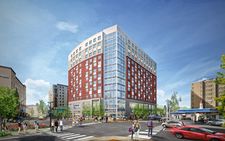 g overcome the challenges that accompany a midstream change in ownership with a complete project redesign, The Met, welcomed its first occupants, at the beginning of the fall semester. This luxury high-rise, student housing project in State College, PA is very different from the dormitories of old with their long narrow hallways lined with sleeping rooms and large community bathrooms. Congratulations to Landmark (Developer/GC), Niles Bolton (Architect), our own John Griffith, PE who led the structural design, and the rest of the team!
For more details on The Metropolitan including this very cool time lapse video of the construction, take this shortcut to our project pages.